Description of Caribou (AKA: Raindeer)
The Caribou (often referred to as a Reindeer) is described as (Rangifer tarandus) a large artic Deer in the order of Artioldactyl and classified as a ruminant mammal of the family Cervidae. This animal is called a reindeer in Europe and a caribou in North America Ruminant animals are even-toed, cud-chewing, hoofed, usually horned mammals which have a stomach divided into four (occasionally three) compartments. Examples of ruminant mammals are cattle, sheep, goats, deer, and giraffes. Their hooves are large and sharp enabling them to travel across large distances and areas consisting of snow and ice.
Caribou are characterised by having deciduous antlers which are borne by both male and many females. Caribou are also characterised by making long migrations, travelling further North during the summer months for fresh grazing and returning to the more temperate climates of the South in the winter for shelter. The caribou family also includes the elk, moose, reindeer, and deer.
Species of Caribou
There are three different species of Caribou:
Barren-Ground Caribou,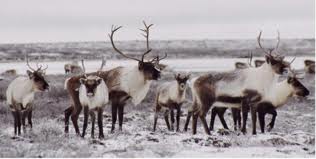 Peary Caribou
Woodland Caribou
The name of a male is referred to as a buck
The name of a female is referred to as a doe
The name or offspring, or a baby Caribou, is a fawn
The average size of a litter is one or two fawns
The collective name for a group of Caribou is a herd
Facts about the Size of Male Caribou
Fully grown they reach the height of 4-5 feet
An adult weighs over 500 pounds
Size of antlers - 3 ft